Residential / House washing
Low Pressure – Soft Wash: Does your home need a bath? There is no question that the unsightly dirt, mold, and algae growing on your home and around your property is not only ruining your curb appeal, but is also taking away from the clean quality of life that you desire (not to mention, probably not great for anyone with allergies).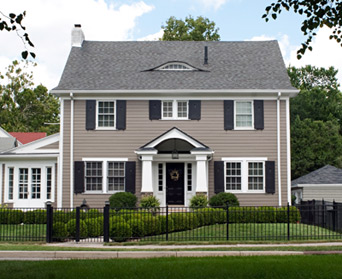 BlueJet Power Wash specializes in the removal of dirt and mold using our unique Soft-Wash cleaning method. Instead of blasting away at your property with high pressure water, we use a special blend of cleaning compounds that are designed to cut thru and break down the mold. Once this is achieved, we use low pressure water, to rinse it all away. This method is superior since it poses no risk of damage to your home and property. At the same time it will leave your home looking sparkling clean and new.
Vinyl Siding

Stucco & Dryvit

Aluminum Siding

Brick & Masonry

Single homes, Town homes, Condos, Apartment buildings and more.
Commercial / Institutional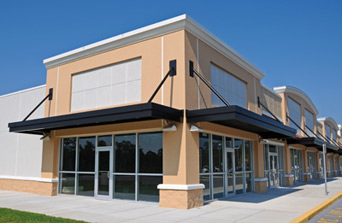 "You never get a second chance to make a first impression". If you run a business or an institution, you know exactly how true this is. The fact is that regardless of what you have to offer inside your structure, your first exposure to the client/prospect is the exterior. Imagine what they are thinking when the first impression you make on them is moldy stucco, and a walkway covered in years of grime. So whether you operate a store front, school, nursing home, or any other commercial property, let us help you maintain a beautiful clean exterior, and even better, an image of success!
Flatwork / Concrete Cleaning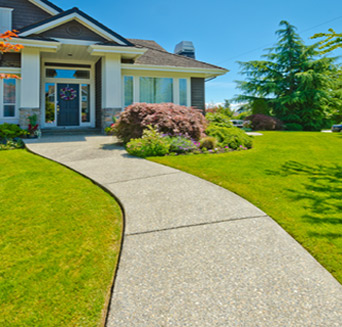 Your walkways and steps have seen better days. Over time your flatwork has turned dirty, moldy, and stained, due to all the harsh elements throughout the year. Why not make your home more inviting by cleaning the flatwork around your home. BlueJet Power Wash has the proper knowledge, skill, and equipment to restore your flatwork so it will look bright and clean again.
Sidewalks & Walkways

Pool Aprons

Driveways

Patios

Rust/Irrigation Stain Removal
Composite Decking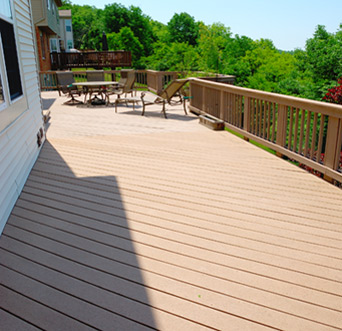 Is your composite deck dirty, moldy and slippery? It is crucial to hire a contractor that is experienced in the cleaning of composites. This deck type, that many refer to as Trex, is a mixture of wood, plastics, and other fillers, which means that it's a softer material than natural wood. If even slightly too much water pressure is used on this deck, it will cause permanent damage to the surface. Let BlueJet Power Wash clean your composite deck with our safe Soft-Wash method that combines the use of proper cleaning compounds with a low pressure wash that will restore it to its original beauty.
Removal of Dirt, Mold, and Algae

Trex, Timbertech, Etc.
Deck/Fence Restoration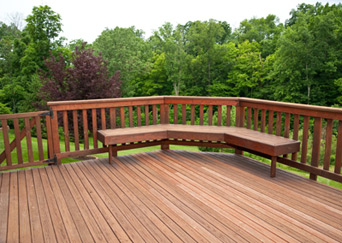 Ok, so you got yourself a nice deck. Now what? Well, you may love the way it looks now, but it will not stay that way for long. Perhaps it already looks very grey and weathered. If it's not protected properly, in no time at all it will become moldy and begin to rot. It is crucial to protect your deck from the elements if you want to enjoy it for many years to come. BlueJet Power Wash is experienced in the highly delicate process of cleaning and prepping the wood for the staining process. The stain we apply is unique in that it both conditions and seals the wood for the best protection and utmost beauty possible. This type of work is something which is definitely best left to the pros that truly understand exterior wood, and take pride in their work. Call us today to discuss your needs and for a free estimate.
Our services include:
Cleaning of mold, graying wood, and old stain

Wood Brightening

Sanding and prepping

Staining and Sealing of all wood types

Premium quality oil-based stains

Decks, Fences, Gazebos, Playsets, Outdoor Furniture